I'm fortunate that my wife has such a good sense of style. I thought my stereo looked great; big, powerful, pristine solid state. What man wouldn't like it?
There was a problem that was a bit too subtle for me to recognize, but made so much sense once she pointed it out. Our living room had two points of focus, the fireplace and the TV. We were going to have to put a television above the fireplace, find a better solution for the components, and ditch the big speakers. I really did enjoy the Axiom Audio M80's and was sad to see them go. The pic is from the ad I ran on Audiogon and I sold them for about half price. But my wife is indulging of my passion, and enjoys music as much as I do. And she knew that I would downsize AND upgrade at the same time. A challenge that any self-respecting audiophile would have to enjoy!
The new speakers were going to have to be pushed pretty much up against a wall; actually IN a bookcase. An audiophile compromise, I know. To help mitigate the effects I wanted to find a speaker with a sealed enclosure and that is what led me to ATC. I pretty much read everything I could about the design of the speakers and the philosophy of the company and needless to say I was sold. A mid/bass driver with a 9kg motor assembly? Sign me up! I felt sure that my Parasound Halo A21 would be a great match too; plenty of juice for those power thirsty 19's.
So following the links on ATC's site I found the North American importer, Lone Mountain Audio whose Brad Lunde put me in touch with David Lewis Audio, a dealer of many fine brands of audio gear. I ordered a pair late this past January. Phew, what a wait. I almost changed my mind a few times; there have been many nice speakers posted on Audiogon and Ebay for sure! But today they finally arrived.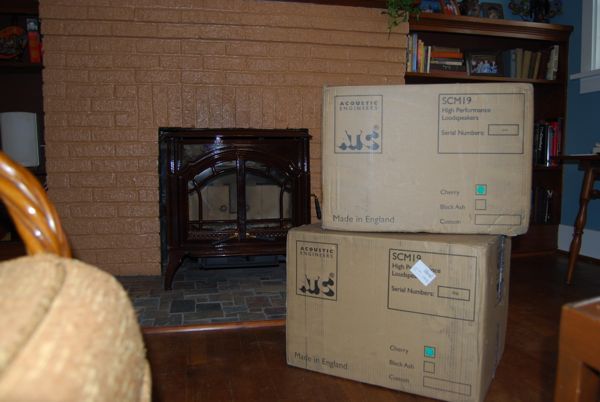 Though nicely packed, one of the grilles was dented in. We got it bent back in shape pretty good, but all in all we prefer the look
sans
grilles. They are very handsome. The cherry veneer is rich and warm. They exude quality without being at all flashy; they're all business. The WAF is at its theoretical maximum! They passed the first test, not even wired up....
Our little Paradigm Atoms have kept us in music this past four months and for anyone looking for an affordable gem in good audio should check them out. Back to the kitchen they went. The scale of the 19's are just right:
We framed the TV with a large picture frame from a big-box hobby store and painted the power and HDMI cables, also the screen is angled down about 10 degrees: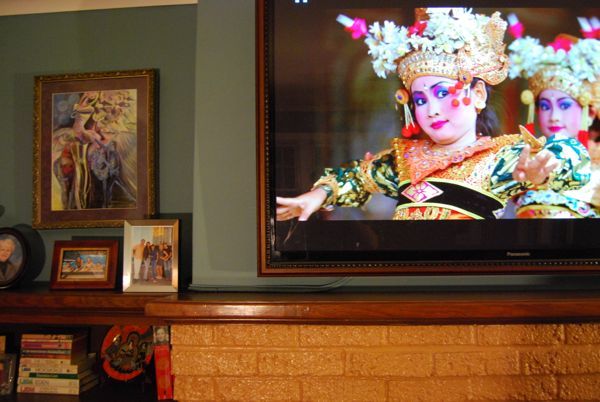 These speakers are definitely NOT installed yet; tomorrow I'll shore them up with an iron plate bolted to the shelf, and I'll add mounting putty so it's not just wood on metal. Also, I'll try to bring them out as much as possible, with some kind of support. The face will be nearly flush with the brick.
A nicer stereo rack with the phonograph, an NAD C165BEE preamplifier (which has a fine phonostage), the REGA turntable power supply next to a Parasound Zdac, an old Sansui tuner (The antenna is a DIY dipole in which the length of wire is tuned to 90.3 MHz, my favorite public radio station.), and an Oppo BDP 103 disc player. A Mac in our office has my digital files, including a small but growing collection of hi-res music running on Channel D's Pure Music software. A little Musical Fidelity unit bridges the USB output to a long length of digital coax: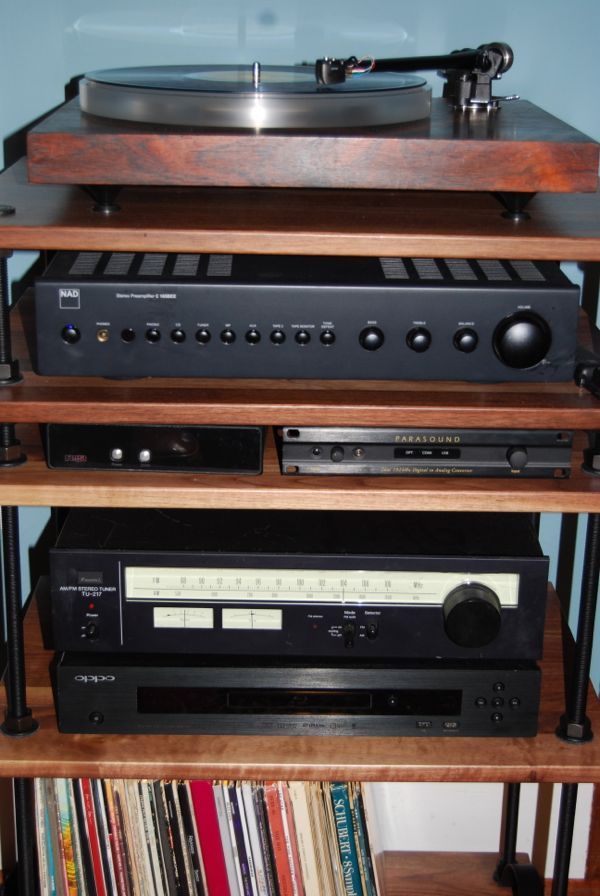 The phonograph is based on the standard Rega design; it's not really a modified deck, I just purchased all the parts separately and put it together. The sound is just sublime, the greatest factor has to be the Clearaudio Maestro V.2. This is an extremely revealing and dynamic cart: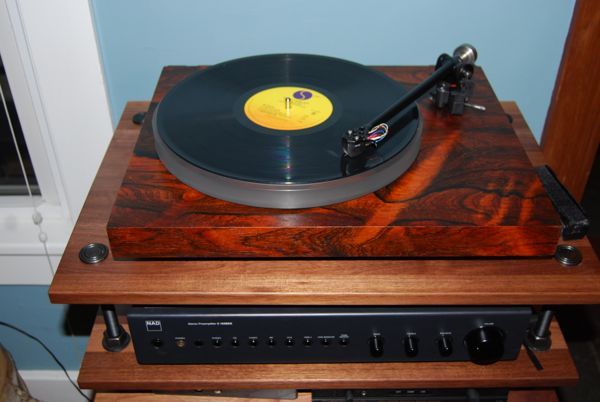 The amplifier has been banished to the basement. The AC cords are all DIY, with two circuits. The amplifier is wired direct to its own 20 amp circuit breaker. Line level signals are passed courtesy of Tributaries Series 6 interconnects: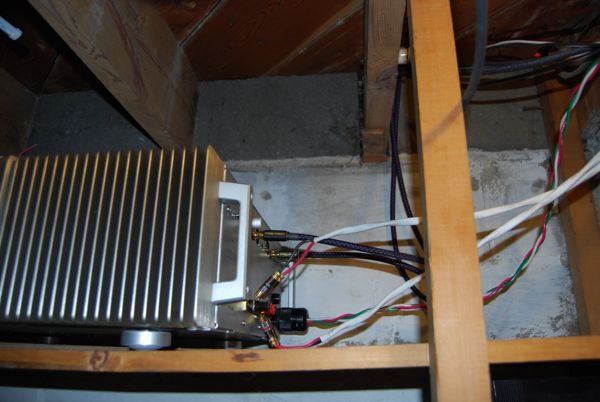 Not pictured is an Acoustic Energy Aelite subwoofer.
Well, damn, these speakers just sound amazing right out of the box. I've turned off the sub while I get acquainted with the sound. I started off with a Milt Jackson/Miles Davis collaboration on Prestige. I just couldn't believe the resolution. Milt's vibes had a purity of tone that was transfixing. Soon after I played Daft Punk's
Random Access Memories
in hi-res. This is one shockingly well recorded and mastered album. It was a fun way to turn up the volume a bit. What can I say, it was well worth the wait! But I'm going to let them settle in a bit, and get the speakers mounted better to the shelves before I really review them here on the forum.
Thanks for reading!
Oran.
TT: Rosewood plinth by Audiowood, Rega 303 arm, Incognito Wiring, Groovetracer Reference Subplatter, Groovetracer Acrylic Platter,24V motor, TT-PSU, Clearaudio Maestro V.2., NAD c165BEE preamplifier, Parasound Halo A21 amplifier, ATC SCM 19's.
---
Enjoy the unique and great sound of ATC Oran!
Audirvana+3.0 - Mac Mini, Lindermann Musicbook 20 DSD, ATC EL 150ASL (with the ATC tweeter!)
---
Congratulations Oran, very nice speakers
Sony BDP-S790 > Matrix Quattro Dac > Digidesign RM2's with SB Acoustics drivers > 2 x DIY Dayton Audio UM18-22 Sub
---
Return to System setup pictures
Who is online
Users browsing this forum: No registered users and 4 guests